26/01/2022
Cyberbullying in North Macedonia and in Serbia. research presentation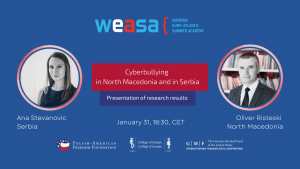 For the last decades, human behaviour has been modified due to internet access in many cases even crossing the red lines. One of these red lines is cyberbullying and harassment.
The latest research shows that cyberbullying has become a serious issue in North Macedonia and in Serbia. Women and underaged girls suffer from cybercrime because their ex-partners and ex-husbands share personal photos without their consent, blackmail, and harass them for revenge or other reasons.
It is high time for all internet users to get to know about this cyber criminality and take measures to protect themselves and their environment because there is no guarantee that a similar thing will not happen with you if you are not aware of how to stay secure and safe online.
With this presentation, we wish to draw your attention to the sensitive research findings, analyze the legislative gaps existing in both countries, discuss the phycological aspects and consequences of the cyber attacked victims and eventually propose a set of recommendations for all internet users.
The speakers of the research presentation are experienced professionals coming from the Western Balkans. More specifically:
Ana Stevanovic (Serbia): Ana holds a Ph.D. in Arts and Media and is a former parliamentarian of the Republic of Serbia, acting politician. She is skilled in public relations and media relations.
Oliver Risteski (North Macedonia). Oliver holds MA in Criminology and Criminalistics. He is the head of the Department for Law Enforcement Research at the think-tank Center for Security Research, specializing in security, information security, cybersecurity, and computer crime.
Both speakers are Warsaw Euro-Atlantic Summer Academy (WEASA) alumni members. Learn more about WEASA: 
www.weasa.org
Being informed this research, our another alumni member from Albania Genjan Skara, PhD in Law, proposed to make his contribution to the research by analyzing the issue of cyberbullying from the perspective of EU law as both countries have an obligation to harmonize their legislation.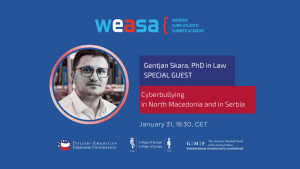 This perfectly showcases how our alumni members from different editions and countries collaborate!
You are welcome to attend the presentation and spread the word about how to be protected in cyberspace.
Please, have a look at the
Facebook event
and register in advance for the presentation
here
:
The online presentation link will be provided to the registered people! Follow us!
Warm wishes
WEASA Team