04/02/2022
WEASA alumni produce new research on Cyberbullying
On January 31st 2022, three WEASA alumni members from different editions presented their research on cyberbullying in North Macedonia and Serbia. The valuable piece of the research caught the attention of the attendees, who shared their appreciation and feedback after the presentation, and demonstrated their deep interest in the topic. The research found out that mostly women and underaged girls are under attack by ex-husbands or ex-partners/boyfriends who share personal photos online without their consent, conduct blackmail, and harass for revenge or other reasons.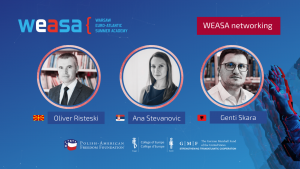 The idea to carry out research on cyberbullying originates with Oliver Risteski from North Macedonia (WEASA 2020). The driving factor for Oliver to start researching the topic was the death of a victim of a cybercrime. This tragic case was at the centre of public debate in North Macedonia. Having an MA in criminology and criminalistics, and being specialised in information security, cybersecurity and computer crimes, Oliver brought his research endeavours to an even higher professional level. 
After Oliver shared his idea among the WEASA network, another alumnae, Ana Stevanovic (WEASA 2019), a politician and a former parliamentarian of the Republic of Serbia, decided to join Oliver since the situation in Serbia is quite similar. And who else if not Ana could understand the importance of the role of media and communications in this topic, as she holds PhD in arts and media and has extensive experience in working with school children.  
The research idea was further presented to the alumni members during our Study Tour to Poland program in December 2021. During our special trip, Gentjan Skara from Albania (WEASA 2021), who holds a PhD in law, proposed to make an additional contribution to the research by analysing the issue of cyberbullying from the perspective of EU law since both countries have an obligation to harmonize their legislation. 
In the end, we had an amazing team composed of WEASA alumni from different editions and different country-representatives from the Western Balkans who care deeply about the same issue and with their professional activity want to fight against a disaster existing in the region. This is what we call "life after WEASA"! We are proud to see our alumni network strengthening and producing quality products!
Here you can find the Research on Cyberbullying in North Macedonia and Serbia presentation.
The full research with the recommendations will soon be published on the WEASA website.