21/02/2022
WEASA Fellows selected!
We finally completed the tough selection process of the WEASA Fellowship Program. After careful consideration of the host institutions' opinions, we selected two bright applications.  
Here are the winning projects: 
1. "Disinformation and migrants' integration: the case of Poland", Olena Shelest Szumilas, Ukraine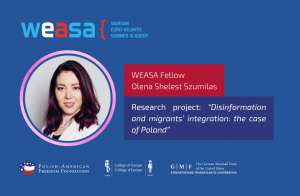 The aim of project is to study the problem of the role of disinformation in migrants' integration in Poland. The particular focus will be on the impact of disinformation on the situation of migrants in the labour market and economic integration. The Geremek Foundation welcomed the idea and we do hope for their fruitful collaboration.  
2. "Institutional capacity building in the security sector through digital transformation in Estonia", Lana Turashvili, Georgia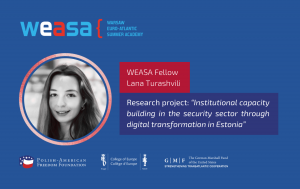 The aim of the project is conduct research on the topic with the purpose to deepen understanding, enhance knowledge, to encourage and to provide with specific tools the leaders of Eastern European countries who aim and are in a position to develop and reform the security sector in their countries through digital transformation.  New Eastern Europe magazine is willing to support Lana in reaching her goal. 
We thank all the applicants for their motivation. We do hope that we will still have a chance to do initiatives together in different formats. 
We would also like to thank the host institutions for their enthusiasm and involvement in our Fellowship Program. 
We will keep you updated about the progress. 
Good luck!