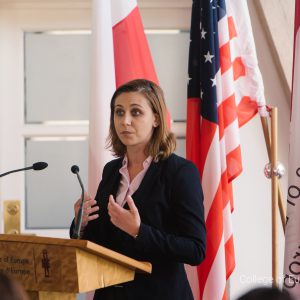 WEASA 2018
The Politics of Technology
WEASA 2018, named The Politics of Technology, looked at a variety of topics, including:
The role of journalism in a digital age, as well as the fight against misinformation and disinformation
The part that social media plays in democracy and diplomacy
The personal dimension of digital security, or how individuals can protect their digital assets, and institutional cybersecurity, or the actions that states and large institutions take
In addition, we also trialled a new programme, putting much more emphasis on discussions and workshops than we did in prior editions. Most days began with one or two lecture sessions, which gave participants the theoretical background on a particular topic, and then delved into much deeper conversations and practical exercises. This shift in format proved to be quite successful and we're planning to repeat it in subsequent editions.
Are you WEASA 2018 alumni?
Join WEASA community! Once you register, your account will be verified by the WEASA team to confirm your participation. Please sign up with the same name/last name that you used during your participation so we can easily locate you.
Sign in
Attachments
Publications
Pictures